Staff Profiles: Michelle, Head of Repairs and Team Leader for Buffalo Systems.
15th July 2020
In this series of profiles we want to showcase the fantastic individuals that make up the Buffalo Systems team based in Sheffield, UK. What makes them tick, the passions they share for the work they do. From designers to machinists, everyone in the Buffalo team has a wonderful story to tell which we are proud to share with you over the upcoming series of staff profiles.
For the introduction profile we sit down and chat with Michelle Drabble who heads up the repairs team for Buffalo Systems. We chat about her path into the industry, what it takes to become a skilled team member with an eye for innovation, and the passion she shares for extending the life of everyone's outdoor apparel.
When did you first hear about Buffalo Systems and how did you come to be involved with the company?
I first found about about Buffalo Systems after my son started senior school. I was starting back into work and wanted to utilise my passion for sewing and fixing damaged clothing. I used to look round discount high street stores for damaged clothes that I could mend and continue giving life to – I guess I had a passion for it and you could end up with some great bargains from really top brands. An old friend and colleague of mine told me about the position at Buffalo Systems – I was dead excited so I applied and was lucky enough to be selected to join the Sheffield team. That was 7 years ago!
I love completing the repairs on Buffalo garments. Each product has a story to tell, so many have seen fantastic adventures, maybe even a few epics. The chance to breath a new lease of life into customers much loved garments is incredibly satisfying. Love your gear and always recycle.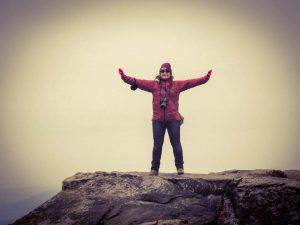 How has Buffalo Systems changed since you joined the company?
I've been at Buffalo Systems for 7 years now in October – year on year will build better working practices in our Sheffield factory and finely tune the range to include any new design features that we feel will help the products perform to their full potential in the worst environments. Recently we refined the rear hem of our classic Special 6 Shirt to help facilitate better water run off while not compromising on fit or the classic nature of the shirt.
Over the past couple of years we have put more emphasis on our repairs hub and getting the most out of your Buffalo Systems products by breathing new life into them – whether its a new zip, a patch repair or even a full sleeve replacement our team of experts can do it quickly so the customer isn't without their kit for long periods of time. We are slightly busier in the winter months when the demand for our gear and the repairs hub is higher. This way, I believe we can play our part for the environment, the sustainability issues surrounding it while keeping more people enjoying the great outdoors in the favorite garments.
You've always had an eye for fabric innovations and the value in repairing your clothing, who has been an inspiration for you in this respect?
My inspiration into repairs and reusing garments comes from a lovely lady who I met in a clothes share group years ago. After giving me a much loved knitted jumper, she shared with me that it was the one item of clothing she always wore to visit her child who was having a period of treatment in hospital.  To me clothes are so much more – they are a collection of memories and adventures that we have shared over our lifetime with friends and family members.
 What's been your favourite product from the range over the years?
It has to be the Fell Jacket. I wear it all year round, in the winter months I add an extra layer under it and in the summer months the micro pile lining means that I never over heat, it wicks sweat away brilliantly. Completely windproof and really lightweight. I love the feel of the outer face fabric we use – soft and quite to move in. It suits every environment I take it into.
How do you see the future of British Outdoor Industry?
That's a hard question. I love our industry and see it moving and adapting more sustainable greener practices at each stage of the production process. Simple things like dialing back single use plastic usage in the factory can have a massively positive impact which is far reaching. The drive behind repairing  our outdoor equipment I believe will continue to gain momentum over the coming years. I know Pertex® are starting to promote greener more sustainable fabrics which I am very excited to find more out about in terms of quality, longevity and the reduced  environmental footprint it will have. As an industry one of the most important thing we can do is collectively work together to form models of best practice and share these with our partners.
Many thanks to Michelle for taking the time to answer some questions on her role within the company. Stay tuned for more profiles and news from Buffalo Systems.