Your adventure.
Your Buffalo.
I love my Special 6 smock and hood! Best piece of outdoor clothing I've ever owned. I have used it on various mountain trips, and I recently took it out to the Lake District where I hiked the Fairfield Horseshoe, incorporating Nab Scar, Heron Pike, Great Rigg, Hart Crag, Dove Crag, and High Pike. It was 0° (with a wind chill of -7°), with 50 – 60mph winds, and rain, snow and hailstone coming in sideways. The special 6 stood up to the elements with no problems, keeping me warm and toasty even when wet through, and even then it dried out quickly. I will be definitely be taking it on more treks and expeditions in the future. Worth every penny!
Dear Buffalo Systems,
Thank you for providing our team members with a Mountain Shirt each for our expedition to Kyrgyzstan. We spent 31 days in the field; experiencing all forms of weather, and I am certain that the jackets were worn 95% of the time. If times got tough, putting on our Mountain Shirts never failed to keep us relaxed, with Buffalo becoming our expedition safe word.
There were several occasions where we would be collecting data on and around the glacier, and see dense rain clouds quickly forming and rolling up the valley towards us; yet we would have little to worry about, safe in the knowledge that a buffalo jacket was stuffed in the bottom of our bags. The combination of being completely robust enough to take an absolute beating and super warm and dry, meant we were confident at times when the Kyrgyz elements were providing challenges hard enough to make Bear Grylls tremble in his boots!
The level of psych this expedition has inspired is through the roof, with all aims completed successfully, and Buffalo systems most definitely being a part of this journey. I feel like any upcoming trip, be it to Scotland this coming winter, or potential expeditions to other far flung corners of this world, my Buffalo will be an essential part of the kit list. The Mountain Shirt is an all-round workhorse of a jacket that allows you to live comfortably in a complete range of mountain conditions; it provided our team with confidence when it was most needed. And not to mention the stylish Royal Blue colourway that never fails to stir up complements walking around the streets of Sheffield!
Once again, thank you for your kind sponsorship, it was an absolute pleasure to work with the team at Buffalo; and you were part of the support that made this dream a reality. I haveno doubt that we will continue to use this jacket for years to come, and I only have positive reviews to tell!
Cheers from the Uni of Sheffield Ala Archa Expedition!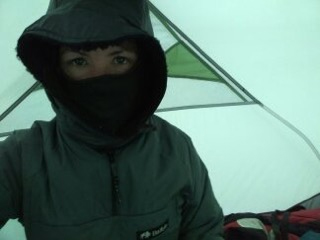 Mongolia
Dear Buffalo
I am currently cycle touring in Mongolia (Winter/Spring shoulder) and your mountain shirt, hood and gloves have been my best friends!!! The temperature has been so varied (anything between -20 and 8) and dependant on the altitude and terrain with colder windchill than I have experienced before … the Taklamakan desert in China in December seems much more temperate by comparison!!  Throughout all this my Buffalo kit has managed to keep me safe, warm and buffered from the elements!  I have cycled in it, slept in it and have discover that when the temperatures are well below freezing but i can manage without the shirt, wearing the hood and merino base layers is the most effective and comfortable way to sleep ever (I've never been very keen on having the mummy hood of my sleeping bag up)!!!
All I can really say is 'thank you' and that i am so utterly impressed with your kit that I want you to make boot liners as well to go with everything else .. then i can completely deck myself out in your amazing gear!!!  I will be getting your salopettes for my next cold adventure!!
Lastly … some advice please!!!  I have been wearing said Buffalo shirt, hood and mitts solidly for the past 4 weeks (!!!) now I'm impressed at how little they smell but they really could do with a wash!!!  I have no access to TecWash out here … whats the best course of action?  Hand wash in just warm water?! Im worried about doing anything to damage the materials!!
very best wishes
Rae xx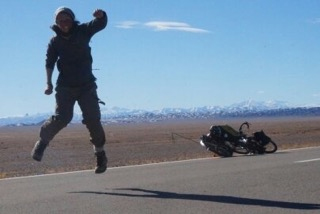 Hi There,
I first heard of Buffalo over 20 yrs ago, eventually getting a special 6.
I have never been cold whilst wearing it, even when on top of a Munro in a frozen howling
gale.I have been iced up on one side due to the winds and driving sleet.Still kept warm and was glad I had the hood .
I'm often asked by other walkers if I have tried the 'bog' test – immersion that is !
Not yet , one day maybe.
Regards
Rob
All over the world
Dear Buffalo Systems
I wanted to thank you for an amazing piece of kit. Since seeing your first shirts on display at the HARROGATE TRADE FAIR many years ago I have been impressed. I have now resorted to replacing my second Buffalo shirt after 20 years of use in the mountains. All the zips still work, but now it is slowly bio degrading from exposure to ultraviolet waves and the ravages of expeditions around the greater ranges. My first shirt saw action with the RAF Mountain Rescue Service. What I like about it is the side zip system for ventilation when on the move, and the generous pocket and pouch system for stuffing hats, gloves, torches, pyrotechnics and just about anything.  It is a work horse on expeditions seeing action on several Himalayan expeditions, the European Alps, Aconcagua and the Munros of Scotland. It comes into its own during bad weather, though most photographs are taken on sunny days when the shirt has a rest day.
Thanks
Terry Moore
CARLISLE
Buffalo Jackets – My "Second Skin"by Chris Packman of Door 2 Door Adventures
I work in the great outdoors as a professional instructor / guide for my own Company www.door2dooradventures.co.uk and as a free lance leader for several companies and organisations throughout The English Lake District and Yorkshire Dales
I bought my Buffalo Active Light shirt some 5 years ago and it is like a second skin for me.  I wear it almost daily both at work and play; it has kept me both warm and dry during all manner of activities from canoeing rivers, mountain biking local trails, standing around in all weathers supervising activities and my Active Light Shirt has been to the top of most of the Cumbrian fells as well as a fair few climbing routes.
I am so impressed with both the brand and its products that I now have a collection of Buffalo jackets, Windproof, Active Light, Active and Mountain shirts, so that when I am outdoors, I pretty well always have a Buffalo top on.
My companies clients  come from all over the world and I work with all manner of people outdoors, including Duke of Edinburgh participants and young Army recruits – I make a point of telling them all about this great British company and its products – so they might be as comfortable outdoors as I am in my various Buffalo jackets.
A special story and report from our friend Gordon Bromley at the South Pole
We usually publish stories like Gordon's on our Stories page, but as Gordon has again given us such a comprehensive review, and has offered us an insight into the work of an Antarctic scientist, we thought the news section, Click Here, would be a great way to share this information and the stunning pictures he has sent. So below is the  email from Gordon.
To read Gordon's full account of like at the South Pole, please Click Here
Comfort
Hi,
I'm probably not wearing my shirt as prescribed, but the big message is that it brings quite a lot of comfort on cold days as a second, mid, layer on top of a thin polar fleece and under a bullet resistant vest. Over it all i where a (uniform) fleece and/or waterproof, depending upon the assignment and conditions. Before my back got damp and cold from the vest, no matter what I was wearing as base layer. Now I feel immune from environmentals, it just feels great.
Great work,
L.
Hi
I have been meaning to write this for some time! I would like to thank you for creating such a functional, waterproof and great looking jacket for children. I have only bought one jacket in each age range for child number #1 as no other coat is needed for the rest of the year. They are so well made that each jacket has been handed down to child number #2, still fit for purpose.  I am pleased that you have expanded your range for older children. Many thanks Buffalo!
Iceland, 2016
Hi All,
My wife and I have just returned from 4 days in Iceland, where we wore the Bufalo System Active Shirts and Buffalo Systems Special 6 trousers.
We wore the tops and Special 6 trousers in all conditions including -3 deg Cent and wind speeds in excess of 50 mph, they performed excellently and will (infact did) recommend the trousers and tops to several people while we were in Iceland.
As it says in the leaflets you need to wear only underwear underneath and nothing else and we were comfortable at all times. We went from outside walking in negative temperatures and high wind, to inside the car and the tops and trousers performed excellently.
We were at no time too hot nor did we feel the cold or wind chill on anything except our faces.
We would both not hesitate to recommend the Buffalo system to anybody that is involved in any hill walking type of outdoor activity.
Thank you for developing this outdoor system.
regards
Ralph and Anne Fielding
Fatbiking!
Buffalo belay jacket.
Absolutely perfect for fatbiking in winter. Used this happily between zero and minus 27 with just one baselayer underneath. Stays bone dry on the inside unlike other people's jackets costing 4 times as much. Used in Northern Sweden and Greenland this winter and on the Baltic Sea.
Absolutely. Great kit. The Swiss guides were amazed I could be so warm and comfortable in such a simple jacket. They were all wearing base layer, fleece and waterproofs.
Stanage Edge, Peak District
Dear Buffalo
Thanks for the great Belay jacket.
Using it a little closer to home here in the UK up at Stanage Edge, Peak District, March 2016 in the freak snow storm we had, it kept me toasty warm and i had to wear it unzipped whilst walking because it's that warm!
It's always a pleasure to invest in some homegrown good reliable gear.
James
6 Lads in Scotland!
Dear  Buffalo Team,
For  5 years this bunch of friends coming up to Scotland to build snow holes and face the elements in winter.
Some of us are faithful to Buffalo even longer taking their jackets on adventures around the world.
We would like to thank you for keeping us warm, dry and safe with special 6 jacket we never leave at home.
Kind regards,
The Jimmy's.
Hi,
Just thought I'd drop you an email about my recent trip to Scotland using a Buffalo active shirt.
I walked the west highland way at the back end of April & used an active shirt which was a replacement for my old & trusty mountain shirt.
From the pictures you can't fully appreciate how wet the conditions were as I was wild camping for the whole week.
The active shirt was fantastic as I'd purchased the hood to go with it too which is worth every penny.
It rained heavily every day & kept with the advice of wearing the shirt next to the skin which although after the prolonged rain water did eventually seep in but at no point was I cold.
After a night in the tent the shirt would've dryed out quite considerably.
A great piece of kit that must be worn next to the skin for best results & I also recommend the hood too 🙂 Clive ….
Kilimanjaro 2015
Having borrowed a friends Buffalo jacket when walking in the Lake District and it keeping me warm in driving rain and cold temperatures, I knew instinctively that when I was getting a coat for my next adventure of climbing Mount Kilimanjaro that I had to have my own.
I wasn't sure exactly what I needed but spoke to Adam at Buffalo who gave me such brilliant advice I knew I'd made the right decision in going to Buffalo. He told me that due to the temperatures at the top of Kilimanjaro I would need more that just a mountain shirt so I opted for an alpine jacket to go over the top.
I went to my local stockist in Newcastle under Lyme and I'm so glad I did. Vanessa was brilliant and had a range of her own Buffalos that I was able to try on to find my right size.
On my trip, I wore my mountain shirt every night when it went colder for meal times and as we got closer to the summit I wore it for bed too. On summit night I ventured out at midnight in just my mountain shirt and alpine jacket and was questioned by my fellow walkers. For the first couple of hours, I was actually too hot and ended up taking the alpine jacket off! When the temperatures really dropped during the early hours I was very comfortable and warm compared to others who were really feeling the cold. On the way back down, I had just my mountain shirt on and was able to stay comfortable by using the side zips to control my temperature whereas everybody else was having to constantly stop and take layers off and put them back on.
I can't recommend Buffalo enough.
Kind Regards,
Jade Hughes
Thousands of kilometers across Canada
Dear Buffalo
Many thanks for the great products–I wore buffalo salopettes and shirt when canoeing thousands of kilometres across Canada in 2003-04, and during the winter there in temps as low as -48C. The salopettes are fantastic for paddling, rolling down the bib on warmer days. More than 10 years on, both shirt and salopettes (with some lovingly applied duct tape) are still going! Thanks again.
Duncan Thomson
Hi.
Over 30 years ago (so long I have forgotten exactly when) I bought a Mountain Shirt, Hood and Jacket from you. I did this after my climbing companion met their designer on a hill walk near Sheffield where I am originally from. The Shirt particularly has had almost constant use since then. I have just had to have the Velcro on the crotch strap replaced.
I have now retired and taken up cycling and once again, the Mountain Shirt has come in as an excellent cycling top (particularly in winter). I thought you might like to know your garments were still going strong after such a long time.
What an excellent and versatile product !
Thank you and regards
Gordon Taylor
Repair Service
Hi Buffalo,
The shirt arrived today looking as good as new (bought in Oct 09).
Thanks, I am really pleased with it.
Starting in '94, I have bought 5 Buffalo shirts for me and my family.
All are still in use, except for the one cut up in A & E after a motorcycle crash. They protect against most things, but that was asking too much even for something 'Made in Sheffield'.
Keep up the good work.
Regards
John Florio
For more information on our repairs service, please Click Here,
Thanks for the repair
Dear Buffalo,
I received my Special 6 shirt back yesterday, repaired free of charge.
I would like to extend my thanks to you and the company for your prompt and excellent customer service.
I was already pleased with the buffalo shirt and regularly tell colleagues how good it is. I will be sure to let them know how professional Buffalo after sales care is as well.
I will look forward to adding to my Buffalo collection with confidence in the future.  I can understand why your brand has such an enthusiastic following.
Many thanks once again!
Steve
Kilimanjaro
I just wanted to pass on my thanks for your amazing kit! I've used it at work (Police) and venturing up mountains in the UK but it really got put through its paces on my recent climb up Mount Kilimanjaro.
I took a special six shirt, mittens and a belay jacket just in case, others in the party had various layering systems and were very sceptical of the Buffalo system. Well for 6 days it proved its worth, from evenings at camp, driving rain, snow and a cool minus 16 on the way up your products were amazing. I had literally just to tweak a side vent whilst watching in amusement of the others having to stop to layer up or down. But where it really came into its own was when I fell, after reaching Uhuru peak and on my way down I fell injuring my back, I spent the next 14 hours being carried off of the mountain overnight, all I had to protect me from the rain and minus 10 conditions were your products, needless to say they did the job magnificently and literally kept me alive and stopped me getting hypothermia on that journey down, the belay jacket made an excellent improvised blanket!
I can't thank you guys enough for your amazing kit.
Warmest regards,
Luke
Ama Dablam, November 2014
On preparing for my trip to Ama Dablam this November 2014, I requested some advice from your company regarding the suitabilty of Buffalo clothing at high altitude and was asked by yourself if I could let your company know how I got on.
I recently bought into the Buffalo Clothing system last year for Scottish winter climbing and purchased the Big Face Shirt, HA Salopettes and Belay jacket. I also purchased a Techlite Shirt and Windshirt for the warmer months.
For Ama Dablam, I took all of the above clothing and with some trepidation I ditched my usual layering system. I should not have worried. I took along my Goose-down Jacket, just in case, but never removed it from the bag. If I was getting cold at Base Camp, I just put on the Belay jacket on top of my Techlite Shirt and I was cozy.
On our climb from Camp 1 to Camp 2,(altitude of about 5500m) I had on my HA Salopettes and Big Face Jacket, however, after the sun came up, the Big Face Jacket was just too warm, even with all the vents opened, however, I had a feeling this would be the case and swapped into a thin synthetic long sleeved base layer and with the Buffalo Windshirt on top I was kept at the ideal temperature.
Due to the dangers of the overhanging serac, we were unfortunately unable to summit this time, however, I'm confident that the Buffalo clothing system would have been up to the job.
I've included a picture of me on the Ama Dablam Ridge.
Thanks for your help and advice.
John McKnight
20 Years later
Hi Buffalo,
I thought you would like to know that my Buffalo Mountain Shirt which I purchased all the way back in 1995 is still going strong 20 years later.
I wear this jacket every winter, and I have to say it's the warmest garment I've ever owned. I can go out with just a t-shirt underneath and I can feel zero cold or wind. Amazing stuff.
I've attached a photo of myself in said mountain shirt on December 26th 2014.
cheers
Sam
20 years and still going strong
Hey guys,
Just occurred to me I've had my special 6 jacket now for nearly 20 years.
Back in 1997 I joined the army at just 16 years old. My basic training instructor (a man mountain Para) said If I invested in any one piece of kit it had to be a special 6 jacket.
He was right, to this date it's survived nearly 5 years of tours, 3 years of courses down in Hereford and now I'm doing the school run as a civilian family man living in Chesterfield it's keeping me warm in the playground waiting for my son to come out.
I work on the railways now, and it's the only piece of kit I can't survive without. Map pocket is and always had been a god send.
Anyway ramble over, just wanted to let you guys know you're doing a fantastic job all these years on and my jacket is still going strong, showing no signs of wear and as I tell my son when he's wearing my jacket playing army, 'it's the warmest jacket in the world'
Good effort guys
James
Ben Nevis and Arran
I recently walked up Ben Nevis and then home to Lochgoilhead (70miles) to raise money to build an outdoor classroom at the local primary school. My Buffalo mountain shirt did me proud through wind and rain (and pitch dark across Rannoch Moor). I nearly put on my emergency waterproofs one time when the rain got very heavy and sideways, but I stuck with it and dried off very quickly without getting overheated as you do in waterproofs (even 'breathable' ones).
Also: We have just received a new batch of mountain shirts for my MR team just in time for winter and I know we will be toasty.
Thank you Buffalo for sticking with a UK manufacture and a quality product (I still wear my wind shirt for running that I bought when I was 17, 20 years ago! and my kids are appropriately dressed in Little Buffalo for Argyll weather).
Wet and windy on Arran – Rufus and Torben don't care.
Anna x
An exceptionally warm soldier
Dear sir/madam.
I would like to take the time to inform you of my satisfaction with the special 6 shirt.  After some trepidation on spending over £100 on a single garment, I purchased said item in preparation for my JNCO cadre.  Upon testing my purchase I was astounded to enjoy a sensation of warmth beyond being indoors while walking for over an hour to my local pub.  In well below freezing conditions that soon became snow with gale winds, I was surprised to break a sweat, concerned that I would soon become cold due to the perspiration, I was again surprised that I became warmer still.  Barely walking fast enough to make my heart rate rise beyond mild exertion, I could not believe how warm I remained, in spite of following your company's advice on wearing the special 6 shirt on bare skin, contrary to the popular principle of layering.  By the time i reached my favourite drinking establishment, I was almost "too hot" considering the weather and thoroughly amazed with what I had just bought.
yours sincerely
an exceptionally warm soldier
Seriously Cold
I resolved to email you a testimony after a recent insane weather experience, outlined below:
"2015 ski season, I took a shiny new special 6 shirt with me to the Alps, but brought my bulky standard ski gear as backup (the shirt was an unknown factor to me).
It performed brilliantly. Even at 3500m on a poor day it was so snug I had to use the vents.
This ski season, I took the 6 shirt and trousers, and left all the old ski gear at home. Apart from having to get some gaiters (the trousers are designed for walking boots, not ski boots) for a few Euros, everything was fine.
Let me tell you how fine. Check the weather for La Plagne for the afternoon of Monday 6th March 2017, at 3250m. Yes, we were there in those 95kph winds. The temperature was -30° without windchill. It was a total, howling whiteout blizzard. Visibility was a couple of metres. My goggles and mask completely froze over.
But I wasn't cold, or wet. Not even a little bit chilly, apart from my frozen mask. It was absolutely, totally, A Ok.
How this is possible without base layers or thermals (I wore the combination next to the skin, as advised) I don't know.
But I now know I can trust this gear, and will happily endorse it.
I might get the overshirt (and a better solution for face protection) if I pop to the Arctic."
Seriously, I'm well impressed. You ought to also know that a) the set is about 3 times cheaper than conventional ski gear, b) with a compression sack it packs down to nothing, meaning I could travel with carry on luggage and my holiday pack weight was <9kg, and c) it can definitely stand up to savage falls, at speed, on ice without tearing.
Most people were sporting fashion gear. They didn't half look cold that day.
Best regards
Myles
Loch, not Lake
I have a Buffalo story for you,years ago I went to the Isle of Skye with a group of young adults to go Mountaineering and Kayaking. For the Kayaking I took a buffalo shirt and trousers.
I hadn't done either before but was very excited about it!
Well to the point,my very experienced friend attached a line to mine and of we go but to my dismay the boat started to move to one side! I could straighten up!
You guessed it I capsized,into the water I went,a cold sea  loch!
To my amazement I didn't feel cold,later on,on shore I noticed I was completely dry!
The trip leader told the kids I had already demonstrated the capsizing and rescue method too! Lol!
Andy. I
Dear sir
I was first recommended buffalo products from my friend who is majorly into the outwardbound scene. Very rarely does a weekend go by where he is not scaling a mountain or climbing up a cliff face somewhere in the yorkshire dales. I myself have never scaled anything other than a large hill which is normally negotiated in a company car in second gear. However I have always wanted a go to jacket for that brisk walk from taxi to public house when the weather is terrible. So based on his recommendation I ordered a few years ago the hooded buffalo belay jacket. The jacket arrived and was great other than it was a tad too short for my liking. As such I placed the jacket after a few wears in the place that all jackets go to die and are never seen again ( the cloakrook under the stairs). So fast forward to this week.. I rang buffalo customer services and asked if they do anything similar to the hooded belay which was just a tad longer. Imagine my delight when they said that they had changed the length and made it a bit longer in the body. I immediatley bought one and I am so glad that I did. The jacket is brilliant, very warm but yet due to the miracle that is the double p system never gets too hot. The new hooded belay is only approx 1″ longer but means everything. I can now walk the dog or go to the pub without fear of frostbite to my tummy. Seriously though this is a fantastic jacket which is perfect for hardcore outwardbound types like my mate or more less adventurous types like me. Well done buffalo you make a great product.
Buffalo,
If like me the three layer system has been drummed into you from a young age, it's very hard to set off for a day's track with nothing on but the Buffalo Special 6 Shirt (jacket if you're not familiar with the products) and SP6 trousers and believe all will be fine. But that's what I did, and despite very low cloud on Glyder Fach and Trayfan (Snowdonia, UK) I've never been so comfortable.
During the trip I used the zips to control my body temperature, and our route gave me the opportunity to really test the kit with some walking and scrambling on the North ridge which is physically demanding. Both jacket and trousers allowed more freedom of movement than the three layer system and while we didn't use ropes I can see how versatile the kit could be.
The large front zip pocket on the jacket is excellent for map, compass and nibbles and very easy to access even with a day pack on while walking.
On the return home both went in the washing machine and were returned to former new condition making the whole experience easy and enjoyable.
I can't recommend the Buffalo system highly enough.
Kevin Jezzard
Dear Buffalo,
I have been meaning to check in for a year or so ever since I realized you actually have a web site! I have been wearing my buffalo shirt every weekend to ski in Yellowstone National Park where I have lived and worked since 1993. I am from Somerset and I married a park ranger and work here as a Landscape Architect. This is buffalo country (bison actually if you want to be correct about it), and I always thought it ironic that I am the only one here who has a buffalo shirt. I often sing the praises of the shirt when people ask me if I am too cold or too hot and just wait while they are constantly putting more on or taking stuff off. Even in below freezing temperatures and winds I rarely wear anything else and the weather can get pretty warm (winter warm you know) before I get too hot in it. We mostly back-country ski in the park or the wilderness areas around the park. We generally don't ski where the bison are as they tear up the snow, can be pretty dangerous and don't hang out in the best skiing areas. Hence I don't have any pictures of me skiing with the bison in my shirt. Just today I was driving up the road to my favorite ski trail and there were the usual ten or so big bulls standing in the road. I thought about getting out and taking a picture of myself next to them but … didn't!
The shirt is doing well. It is showing signs of wear. I have seriously worn it every weekend from December to about the end of April for the past fifteen years. I think part of the longevity is due to the fact I rarely wash it – it doesn't smell so I don't need to. I don't wear it in the summer it gets too hot here and though I love it, it isn't the most comfortable thing to sit around camp in.
Thanks for a great product,
Lynn Bickerton Chan
Hi there
Just letting every one  know that your gear is great, i recently purchased the ha salopettes, the big face jacket and the over sized hood from needle sports, already had your mitts and went for a weekend away in the cairngorms. I'm in assynt mrt and we were training in coire na ciste for the day.the weather was blowing a gale,chucking it down with snow and cold…too every one else that is, all i had on was the gear stated  plus underpants  socks and boots thats it…meanwhile every body else was piling on the layers i was still cosy….this is probably the longest time i've spent out in those conditions and at no point did i get chilled, this is really good gear, can't understand why people want to by the goretex crap. once the day was done headed back to the digs, every one  was complaining about being wet , I'm bone dry and have been all day .here's a couple of photos from the day.i'm really happy with my purchase. Many thanks . Alan Hastings
Hi Buffalo,
I just thought I'd drop you a quick note & a couple of pics to say how much Natalie loves her little buffalo shirt already! She wore it this weekend up in the Lakes and absolutely loved it 🙂 Fortunately the 4-5 years fits Ok ( just) but these are great for her age ( she is 5 but is tall for her age) and I reckon you should do these in age 5-6 as well 😉
Cheers
Ann
Hi Adam
Just thought I would let you know that I finished the Iditarod cycle race in alsaka. I ended up 8 th doing it in 3 days and 23 hours, which I was quite pleased with for a first attempt. I was leading in the early stages but had some mechanicals which set me back a little. As usual temps were pretty cold. However the Buffalo clothes worked really well. In the pic attached it was -40C and although it was chilly whilst I was moving I didn't need to put my down jacket. The Buffalo was enough to keep me going. It's a shame you don't make a sock system however as I did suffer from frostbite and on my return to the UK spent a week in hospital. Luckily my feet are pretty much back to normal, I haven't had to have anything amputated, just lost the feeling in the end of my big and little toes.
The only thing I could think of to improve the jacket is some sort of Camelbak pouch. At those temps I needed to wear my camelbak inside the jacket to stop it from freezing and it made the jacket a little tight and the arms short full (and this was with only a small water bladder). It also meant I had to wear a thermal under the buffalo otherwise the pack would have had to be against my skin which was a bit uncomfortable. Some sort of inner pouch would be cool and maybe a way of getting a little extra room in the back panel.
Cheers
James
Thank you Buffalo for such great gear.
My dad reccomended the special 6 shirt to me for fishing. I was looking at all sorts of dedicated fishing clothing but decided to follow his advice and buy the expensive Special 6 shirt. Although pricey i'm very glad I did, this is the warmest most versatile shirt i've ever owned and I practically live in it now. Wet, dry, cold, its great. Just make sure to carry an extra if it warms up, the buffalo will cook you.
Well reccomended to all fisherman. The free movement, and light weight is great. You wont get anything better.
Ade
Nottingham
hey buffalo,
i stumbled across the 'stories' bit of your site, so i thought i'd add my two penn'orth.
i first wanted a buffalo as a teenage army cadet, but other, more camouflaged, gear got purchased first. silly me.
thus, i left it for 20 years, until my honeymoon in slovenia required the acquisition of a new top. so the special 6 (in green, natch. old habits die hard) it was.
that was last september, and i've only just taken it off. my wife is rather pleased that I will now wash it.
it's the best multipurpose outdoor top i've ever owned. from canal boating to canoeing, as warm down gear for running, when cycling, you name it, the buffalo comes along and performs. it's suffered snags and scrapes, but the quality of production ensure it holds up.
so cheers for continuing to make good gear, here's a pic of me in my favourite jacket in the afan forest, biking in the snow, feb 2010. and yes, i am wearing a baselayer, which i soon realised wasn't required.
ta,
daf
team badger
reading uk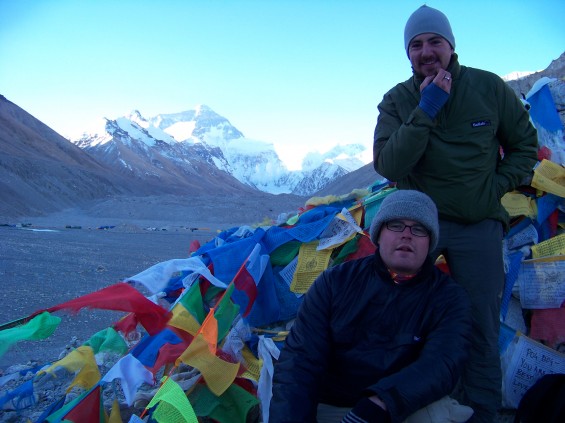 Dear Buffalo,
The pictures attached show myself wearing my Special 6 shirt and my Canadian friend who I talked into buying the same shirt. He a big guy- around 6 foot 5 and built like a lumberjack. After measuring him we opted for the largest size available. Unfortunately, we were living in Korea at the time, which meant we were unable to try on the special 6 shirts until they arrived. We should'nt of worried- it fit him perfectly. We then spent 3 weeks in Tibet and got as far as Everest Base Camp- where the photo was taken. In a party of 11, we appeared to be the only people who were comfortable in the howling wind and subzero temperatures, even though all the other group members were fully layered up. At no point did either of us feel cold or uncomfortable. I wore a Helly Hanson lifa underneath, just so I could remove the shirt when we managed to get inside for a brew.
A fantastic piece of gear, which hasnt aged a day in over 3 years.
Regards
Jimmy
Well,
That's it.  My last Buffalo has finally bit the dust.  I have had it since 1989 and the blue has faded almost to white.  Sea kayaking had corroded the zips, holes had been patched with spinnaker tape and it was only the hood still in half decent shape.  I have a whole wardrobe of down and primaloft stuff but this was always my preferred choice along with my Helly Hansen field jacket  [Like Buffalo, Helly fibre pile was made on the principle- 'If it ain't broke, why fix it'?] I intend to buy another mountain shirt, it is lasts as long as the previous one I'll be an old codger pushing 80!  One last thing, isn't  it satisfying, almost smug to say youy have a great piece of kit made in the UK?
Chris Ince
Dear Buffalo,
I would just like to take a little time to say brilliant the special 6 shirt is. I work as a fireman in Greater Manchester ,a few of the lads who I work with are on the Urban Search & Rescue Team and they recommended this shirt to me.
During the recent cold snap(08/12/10) we all went up to Coniston to walk up the Old Man, the temperature when we got out of the car was -10 and with the winds at the top i have no idea what it must have dropped too.
At no time of the walk was i cold, the jacket was great, it prevented me from wearing at thermal layer and a gortex shell like some of the other lads. I have included a couple of photos of me in the jacket at the top.
I would definately recommend this jacket to anyone who maybe reading this, stop thinking about it, go and get one you will never look back.
cheers
Geoff
Manchester
Dear Buffalo,
I thought I'd send in a report from the Rockies on my Buffalo kit. Growing up in the UK, I read about Buffalo and intended to at least get a mountain shirt, but for some reason stuck to the traditional layering system. Fast forward a few years and my wife and I started to spend more and more time in Colorado, so I had a great reason to buy the mountain shirt, belay jacket, windshirt and teclite trousers over a couple of years. I just about live in the mountain shirt when I'm out on the hills during the colder months (the belay jacket is great for breaks), and the windshirt is great for cool summer days and afternoon showers (and as a back-up for extreme winter weather). I wore the mountain shirt and belay jacket together while standing still in sub-zero temperatures (working as a photographer covering an ice climbing event) for five hours last week! While others huddled around a fire, I didn't have to miss a shot.
I've attached a photo of me wearing my mountain shirt while out snowshoeing last month. The harsh Rocky Mountain winters are no match for Buffalo!
Regards,
Craig from Colorado (formerly UK)
Dear Buffalo
Please see attached a photo of me and friends wearing a Buffalo windshirt on top on Mont Blanc in a whiteout! This was a 13 hour day and I was completely shattered at the end! It was properly -15c with windchill on top, but all I had on was a thin baselayer, thin fleece & my good old windshirt but I stayed warm and dry!
Great piece of kit packs down small and very light!
Regards