FAQs
What should I wear over my Buffalo Shirt?
If the weather, or your activity, demands a higher level of insulation or extra protection from e.g. heavy rain, you can wear any Buffalo Jacket over your Shirt.  This will ensure you remain at a comfortable temperature with the ability to vent the shirt underneath if necessary.  In almost all cases* we do not recommend you wear a 'waterproof' over any Buffalo garment.  Generic waterproofs are not sufficiently breathable to allow moisture to leave the skin, and the retained moisture will leave you feeling chilly.  In Spring, Summer and Autumn a Windshirt can be worn over a Teclite insulated product (e.g. the ActiveLite Shirt or Teclite Shirt) to provide additional insulation when a Buffalo Jacket would be too warm.  The Windshirt can also be worn over a Shirt in the winter as an additional windproof layer which will keep out the rain without affecting breathability.
*exceptions to this are instances when you require a waterproof layer but are not producing sufficient body heat to perspire e.g. sitting on a cold wet belay waiting for your friend to stop faffing around.
I really want a Buffalo but they don't quite fit me. Can you make one for me with longer arms and body?
We offer a Specials service at an extra charge where we can make the body or arms longer or shorter.  There are some limitations, and this is not a tailoring service to get a custom fit garment.  If you would like further information or advice on your specific requirements, please contact either your local Buffalo retailer, or call us direct – we will be happy to help.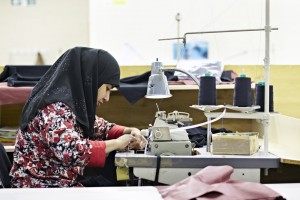 How do your sizes work when choosing a Buffalo garment as some are chest sized and some are S, M, L and XL?
Our more technical pieces offer chest-sizing as fit is critical to performance.  Less technical garments are in sizes S, M, L and XL – the regular sizing method will still give you a great fit without any loss of performance.
What size Jacket should I wear over my Buffalo Shirt?
For Buffalo Jackets that come in chest sizes, i.e.  40" 42" 44" etc, we always recommend going one size up from your Shirt size if you are going to wear it over one of our Shirts. If you are wearing a Jacket over conventional clothing you will normally buy a Jacket in your regular chest size, though it is always best to find a retailer who carries Buffalo to get their advice or please give us a call for advice.
What should I wear under my Buffalo Shirt?
Ideally, nothing. A base layer will trap perspiration and the resulting dampness will reduce your body temperature and make you feel cold.  In extreme conditions this could lead to hypothermia.